CMTE SPOTLIGHT #2
Mindful Music: The Therapeutic Use of Music in Dialectical Behavior Therapy (DBT)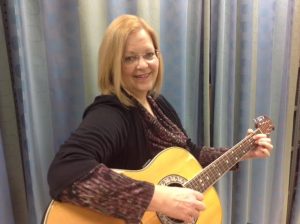 Mary Mangi, MT-BC; Mara Bach, PhD
Thursday, March 16th, 2017 7:30 AM – 12:30 PM
$100 ~ 5 CMTEs
In this presentation, an overview of Dialectical Behavior Therapy will be provided. Its application in Mental Health will be discussed in terms of Thought Disorders, Mood Disorders and Borderline Personality Disorders for which DBT was originally created and a difficult illness to treat. A particular issue to be addressed is validation of the patient experience. To understand the core DBT concepts, they will be applied in practical Music Therapy experiences. In small groups, more Music Therapy session ideas will be generated to build one's repertoire of therapeutic interventions.
Speaker Biographies:
Mary Mangi, MT-BC, a graduate of Alverno College (1981) has been working at Milwaukee County Behavioral Health Division (BHD) for the past 29 years. She is proud to be associated with BHD's legacy of not only celebrating 70 years of their Music Therapy program but also in the training of Music Therapy interns for 67 of those 70 years! Mary's primary experience is with adults with mental health and behavioral issues, specializing in Dialectical Behavior Therapy (DBT) to help personality disordered individuals gain control of their lives. Currently, Mary is the Music Therapy Internship Director at BHD and works with Alverno College providing practicum experiences for the undergraduate student. She has judged on the local and national level for the National Veterans Creative Arts Competition as well as accompanies young vocalists and instrumentalists through local school systems.
Mara Bach, PhD graduated from Marquette University in 2015. She is the Clinical Program Director of Day Treatment for the Dialectical Behavior Therapy (DBT) Team which serves clients with severe and persistent mental illness in person-centered and trauma-informed structure. Prior to returning to school to complete her PhD, she worked for 10 years as a bilingual master's level social worker at the Legal Aid Society of Milwaukee, in the Guardian ad Litem division as well as at a large Hispanic non-profit organization in Milwaukee, the United Community Center (UCC) working with adjudicated Latino youth, adults and their families with emphasis on dual diagnoses of mental health and substance abuse.