CMTE SPOTLIGHT #7
Strategies for Maximizing Active Participation in Music Therapy Interventions – Part One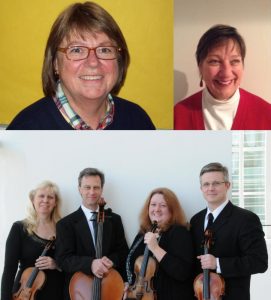 Laurie A. Farnan, MMT, MT-BC; Michelle L. Schumacher, MSE, RMT; Rhapsodie Quartet of HeartStrings – Madison Symphony Orchestra
Thursday, March 16th, 2017 1:30-4:30 PM
$100 ~ 5 CMTEs
This CMTE provides innovative strategies for development of effective interventions. Focus includes: multi-sensory stimulation/processing techniques, low vibration tactile stimulation; popular music adaptation (Grammy tunes) in goal based session planning; and instrument adaptations. Final segment will explore nationwide trends of music therapists partnering with symphonies for mutually beneficial community engagement initiatives in health care. The last 75 minutes of the CMTE will be on Saturday, March 18, 2:30-3:45 in an interactive session with the HeartStrings Quartet of the Madison Symphony Orchestra. The quartet will be playing live and we will provide an actual interactive session with participants. There will also be a question and answer section with the therapists, musicians and symphony staff.
Concurrent Session: SATURDAY
Strategies for Maximizing Active Participation in Music Therapy Interventions Part Two featuring the Madison Symphony string quartet playing LIVE 
Note: Anyone is welcome to attend this portion of the CMTE.
Members of the Madison Symphony Orchestra HeartStrings Rhapsodie Quartet; Kathryn Schwarzmann, Education and Community Engagement Director, MSO; Laurie A. Farnan, MMT, MT-BC; Michelle L. Schumacher, MSE, RMT
This session is open to all conference participants and required for those who are participating in the CMTE. We will provide a rare live demonstration of what goes on in an actual interactive community engagement session. HeartStrings continues to reach beyond traditional performance settings to bring live, interactive presentations by some of the best players into healthcare and residential facilities. The string quartet will play live and the therapists will demonstrate active participation strategies. There will be a question and answer segment to learn what this type of work means to both the providers and participants. The Madison Symphony has been recognized as a nationwide leader in successful partnerships with healthcare settings.
Speaker Biographies:
Laurie A. Farnan, MMT, MT-BC Laurie served as the Coordinator of Music Therapy Services at Central Wisconsin Center for Individuals with Intellectual or Developmentally Disabilities for 36 years. Laurie has designed research-based innovative sensory stimulation techniques to enhance the music experience for people with developmental disabilities, emphasizing an active participation approach to improve functional life skills outcomes. She has been involved with the Madison Symphony Orchestra and their community outreach program, HeartStrings for the last 11 years, serving as one of the pilot sites in the first year. She continues to facilitate HeartStrings sessions each month at Central Center and serves as an ongoing resource to the Madison Symphony Orchestra and the HeartStrings community engagement initiative. She served as faculty on HeartStrings at the national conference of the League of American Orchestras.
Michelle L. Schumacher, MSE, RMT
Michelle has worked as a music therapist for 35 years, specializing in the field of ID/DD. She received her Bachelor of Music Education & Bachelor of Music Therapy from the University of Kansas. She received her Masters in Special Education from the University of Wisconsin. She has served AMTA as; AMTA executive board, Assembly of Delegates along with being on the Financial Advisory Committee. She has served the Great Lakes Region as President, Vice President, Membership chair, Conference Co-Chair and served on the Standards and Special Populations Committee. She has presented information at the state, regional and national levels.
The Rhapsodie Quartet brings together some of the brightest stars of the Madison Symphony Orchestra. More than just a string quartet, the ensemble is the resident ensemble of the MSO's award-winning HeartStrings Community Engagement Program. United in their mission, the members of the quartet create a fusion of talent, passion and heart in their performances. The Rhapsodie Quartet includes MSO Co-Concertmaster Suzanne Beia, Principal Violist Christopher Dozoryst, Principal Cellist Karl Lavine, and violinist Laura Burns. The quartet makes monthly visits to community partner locations, bringing a full season of activities to residents and caregivers.