CMTE SPOTLIGHT #9
Intensive Care: Interdisciplinary Collaboration in Adult Critical Care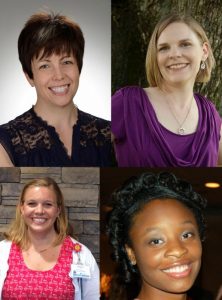 Jenny Branson, MT-BC; Kerry Willis, MT-BC; Cameron Coffey, MT-BC;
Blaire McElroy, CCRN
Thursday, March 16th, 2017 1:30-6:30 PM
$100 ~ 5 CMTEs
The ICU provides support to some of the most vulnerable patients in a hospital. Providing this care can create a chaotic environment, making it difficult for patients to rest and heal. Music therapy intervention and collaboration can have a significant positive impact on medical outcomes, staff stress, and family experience.
Speaker Biographies:
Jenny Branson, MT-BC has worked with Norton Healthcare since 2004, when she was hired to design and pilot the first adult medical music therapy program in the region. With the support of Norton Audubon Hospital, University of Louisville, and Norton Healthcare Foundation, Jenny has worked to build a nationally recognized medical music therapy program that employees ten music therapists across five facilities. Jenny has pursued additional education in Neurologic Music Therapy, counseling, addictions, business, leadership, and a variety of instruments. She continues to perform as a percussionist with a variety of organizations, and presents on program development, wellness, and music therapy in chronic disease.
Blaire McElroy, CCRN is a critical care nurse with 3 years of experience as an open heart recovery nurse. With a background in hospice, rehab, and psychology holistic care of the patient is her focus. This includes addressing their psychosocial and spiritual needs while taking the whole person into account for all aspects of nursing care. The individual's environment, mental, and emotional state of being are evaluated in connection with meeting their needs. Advocating for the patients needs, often in non-traditional ways, is part of her every day nursing care. Music therapy is an integral part of her non pharmaceutical management of pain and anxiety in critical care patients.
Cameron Coffey, MT-BC joined the medical music therapy team at Norton Audubon Hospital in Louisville, KY in 2016. Previously, she worked as a music therapist on an inpatient acute psychiatric unit, where she pursued continuing education in dialectical behavior therapy and is a certified DBT trainer. Cammie received her bachelor of music degree in music therapy from Western Michigan University.
Kerry Willis, MT-BC has been a music therapist with Norton Healthcare since 2006. In addition to providing in-patient music therapy she also provides outpatient services through the Norton Neuroscience Institute and co-leads a Music Therapy and Exercise Group for individuals with Huntington's Disease. Kerry is specially trained in Neurologic Music Therapy and the use of the Music Therapy Assessment for Disorders of Consciousness (MATADOC). She has presented on a variety of topics including: Music Therapy and Mobility with Parkinson's Disease, using music for self-care and stress management, and developing a sustainable medical music therapy program.