Mindful Movement for Music Therapists:
Using Yoga in Sessions and Self-Care
Presenter: Jennifer Hicks, MT-BC, E-RYT
Times & Dates: Thursday, April 12 – 7:30am-12:30pm
Description: Research shows that music therapy and yoga promote similar physical and psychological benefits, reducing tension, stress, and pain and improving motor skills, memory, and quality of life.
Attend this highly experiential CMTE to learn and practice yoga-based principles you can intentionally incorporate into your music therapy sessions and self-care routine!
Prices: 
$120.00 – AMTA Professional Member rate
$140.00 – Non Member rate
$50.00 – Retired rate
Credits: 5 CMTE credits available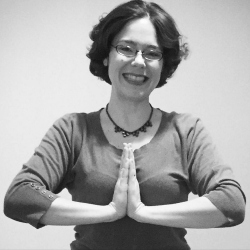 Jennifer Hicks is a board-certified music therapist, a licensed music educator, an experienced registered yoga teacher, a Yoga Alliance continuing education provider, and the owner of Joyful Noises LLC.