Creatively Cultivating Great Businesses in the Great Lakes
Presenters: Sara Devine MT-BC, NMT-Member, LCSW; Jennifer Hicks, MT-BC, E-RYT; Betsey Zenk Nuseibeh, MM, MEd, MT-BC; Jody Conradi Stark, Ph.D., MT-BC; Nancy Swanson, MA, MT-BC; Jennifer Whitlow, MT-BC
Times & Dates: Wednesday, April 11 – 9am-6pm
Description: A panel of music therapy business owners representing each of the six GLR states will guide course participants in exploring a variety of aspects of music therapy business ownership, specifically tailored to the needs of businesses within the Great Lakes Region.
All participants will be asked to complete a pre-conference survey, responses of which will inform and guide the primary foci of the institute.
Prices: 
$200.00 – AMTA Professional Member rate
$220.00 – Non Member rate
Credits: 8 CMTE Credits available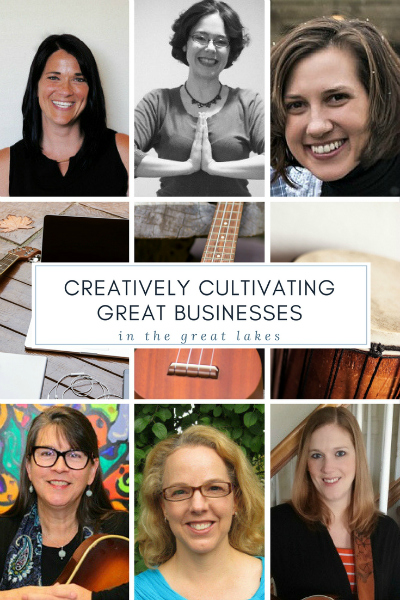 WISCONSIN
Sara Devine MT-BC, NMT-Member, LCSW is founder of Expressive Therapies LLC. She has over 15 years of experience working with individuals and groups combining her passions of music and positive mental health together in her approach to optimize potential and promote wellness! Sara is a Board-Certified Music Therapist, Neurologic Music Therapy – Member and a Licensed Clinical Social Worker. She is also in her final year of training to become a Fellow of the Association for Music and Imagery, working specifically with the Bonny Method of Guided Imagery through Music.
MINNESOTA
Jennifer Hicks, MT-BC, E-RYT is a board-certified music therapist, a licensed music educator, an experienced registered yoga teacher, a Yoga Alliance continuing education provider, and the owner of Joyful Noises LLC.
OHIO
Betsey Zenk Nuseibeh MM, MEd, MT-BC received her Bachelor of Music in Music Therapy from the University of Iowa. She has an Master of Music in Oboe Performance from CCM and her Master of Education from UC in Special Education. Betsey is the Executive Director and founder of Melodic Connections, a music therapy-based non-profit organization serving Greater Cincinnati. Betsey regularly advocates on behalf of music therapy through speaking engagements in the Greater Cincinnati area and beyond.
MICHIGAN
Jody Conradi Stark, Ph.D., MT-BC is a board-certified music therapist with over 30 years of clinical experience with various populations, including psychiatric, cognitively impaired, autism spectrum disorder, pre-primary impaired, at-risk children/youth, veterans, medical (oncology), Alzheimer's Disease, and hospice. She is Part-Time Lecturer and Music Therapy Clinical Supervisor for Eastern Michigan University's Music Therapy Program, Site Director of Music Therapy Clinical Services, Michigan State University Community Music School- Detroit, and President of Creative Arts Therapies, Inc., a company she started in 1991 that provides contractual music, dance-movement, and art therapy services to agencies and individuals throughout Southeastern Michigan.
ILLINOIS
Nancy Swanson, MA, MT-BC is a master's level, board certified music therapist and owner of Nancy Swanson Music Therapy Services, Inc. She has been a music therapist for 24 years and in private practice since 2005. Her business mainly serves gerontology and oncology clients in both individual and group sessions. Nancy also serves her profession at the state and regional levels in various capacities.
INDIANA
Jennifer Whitlow, MT-BC has been a MT-BC since 2011, after completing her BS degree in Music Therapy and Psychology at Saint-Mary-of-the-Woods College.  Prior to completing her music therapy degree, she completed a BS in Music in 2008 from Indiana State University.  Upon completing her degree in music therapy, she began working with individuals with special needs on the Medicaid Waiver in Bloomington, IN.  She has since serviced many clients and families on the waiver in Bloomington, Indianapolis, and the surrounding areas.   In addition to serving families on the Medicaid Waiver, she also provides services in Eldercare, ABA, and more.  She also serves as President of the Association for Indiana Music Therapy and Secretary for the Great Lakes Region-American Music Therapy Association (GLR-AMTA).  She is actively involved in the state and region, and is an active member in the national level of the American Music Therapy Association (AMTA).  Jennifer also offers presentations about music therapy and entrepreneur training.